This week, approximately 125 Wayne County Public Schools students, 70% of which are military connected, converged on the Meadow Lane Elementary campus for a five-day STEM focused summer camp. The Science, Technology, Engineering and Mathematics for Kids of Active Military Personnel (STEMKAMP) offers participating students in grades 3-8 fun, hands-on immersive activities designed to help them explore a wide range of STEM careers.
"Wayne County Public Schools is one of ten military-connected school districts in the nation to host a STEMKAMP," states Beverly Boltinhouse, WCPS Career & Technical Education Director. "We are appreciative of Goshen Education Consulting, Inc. and iBIO for their efforts to support military connected students and communities through this program. I would also be remiss if I did not thank Andrew Bass, WCPS Math Coordinator, for his efforts to help coordinate the district's camp. We are hopeful this program will help spark passion for STEM and help the participating students grow their critical thinking and problem-solving skills through the various hands-on experiences offered daily."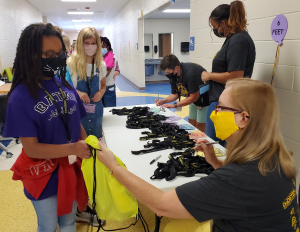 Goshen Education Consulting, a prominent STEM educational evaluation and research center, and iBIO, a nonprofit dedicated to inspiring the next generation of innovators and helping restore America's leadership in technology education, selected Wayne County Public Schools based on its connection with families employed at Seymour Johnson Air Force Base. The two partnered agencies were awarded a three-year $2.7 million grant from the U.S. Dept. of Defense for Innovative Experiential Program in September 2020.
"It is exciting to watch students progress during the camp,"   states Shannon McWhorter, STEMKAMP Program Director. "On the first day, they arrive a bit quiet. As they build and explore each day, their excitement and understanding of STEM really grows."
The STEMKAMP summer enrichment program will impact up to 3,750 children in military families across the United States. On Friday, June 18, the STEMKAMP will conclude with a special Family Day luncheon at 11 AM, which will allow families and invited guests to see firsthand all that the students accomplished over the course of the week-long camp.